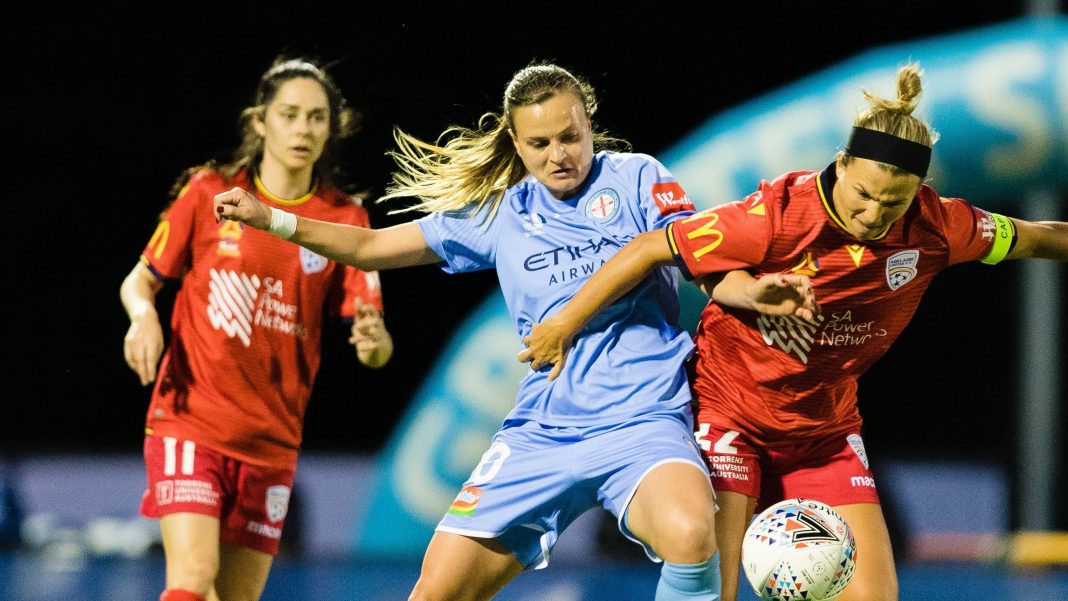 With a bounty of local talent on display, one would have thought that all eyes would have been on the bevy of Australian national team players in action when Melbourne City played Sydney FC on Sunday afternoon.
And while the likes of Steph Catley, Caitlin Foord, Kyah Simon, Alanna Kennedy, Emily van Egmond, Chloe Logarzo and Lydia Williams (among others) certainly received their fair share of attention, there was a pocket of fans there for another.
A group of supporters from NSW NPL club Bonnyrigg White Eagles – founded by as Avala Sports Club by Serbian migrants in 1968 – made the trek to Cromer Park. They were there to cheer on City's Serb international Milica Mijatović, who they had contacted earlier that week.
The 28-year-old did not disappoint her public, starting in place of an absent Aivi Luik. She provided the assist for van Egmond's opener and then fired home a half-volleyed effort in the 76th minute to give City a 2-1 win and send them to second of the table.
Mijatovic fires home the winner! 🔥🔥🔥 #SYDvMCY

📹 @FOXFOOTBALL pic.twitter.com/KerytZtv9q

— Melbourne City FC (at 🏡) (@MelbourneCity) December 8, 2019
It was a proud moment for Mijatović, who this season has become the first Serb to play, let alone score, in the W-League.
Despite having a population of just 8.7 million people, Mijatović hails from a nation whose sides are well and truly capable of punching above their weight.
In volleyball, Serbia is a global superpower. Its women are the reigning Olympic silver medallists, World Champions and two-time defending European champions. They will enter the 2021 EuroVolley tournament on home soil, heavily backed to make it three on the trot.
The Serbian Olympic Committee declared the handball team the nation's best female team of 2013.
Bronze medallists at the 2016 Rio Olympics, Serbia's basketball side also won bronze on home soil at this year's European Championships. In tennis, Jelena Janković and Ana Ivanović are former world number ones on WTA tour.
Yet, in football, there remains some work to be done.
"There is a huge growth in all the parts of Europe," Mijatović told Beyond 90. "In Serbia, it is expanding and growing but it's still way behind.
"The [domestic] competition is getting better and there have been a few teams who are getting fusions with men's teams – like here at City – which is a good thing. It's growing but still, the quality is not good enough. That's why we have most of our best players from the national team playing abroad."
The Serbian SuperLiga – Суперлига Србије – was founded in 2006 after the split of Serbia and Montenegro, and serves as the highest level of domestic football for women's football in Serbia.
In its current eight-team format, the season is split into two parts. In stage one, teams engage in home and away matches across 14-rounds in order to qualify for finals and avoid a relegation playoff.
At the conclusion of the opening stage, teams are sorted into two groups – the top four competing for the championship and the bottom four to avoid relegation. Previous match results staged against foes sorted into a separate tier are wiped and the clubs play another series of home and away matches.
The team with the highest points total in the top-four play-off are crowned the champions and the bottom team from the relegation playoff are sent to the second division.
Serbia's national side resides at 41st on the FIFA World rankings, wedged between Taiwan and Romania. That ranking, though, is on an upward trend from their greatest low of 45th; previously at 44th in 2017 and 42nd in 2018.
Beli Orlovi is currently third in Group G of their qualifying group for the 2021 European Championships in England; two wins and two losses leaving them well-poised but still looking up at Austria and France.
"For the last two years, we got a lot of support from the federation," Mijatović explained. "Way much more than we used to get earlier.
"But it's still, there's a big difference between resources that the men get and what we get.
"It was [prior to 2017] base level. We had a team, we had solid staff but we actually weren't getting anywhere so now, as I said, in the last two years the situation has drastically changed."
Nonetheless, despite the green shoots, football still sits low on the sporting-totem pole for Serbian girls.
"Volleyball, basketball and handball, they are all way in front of women's soccer," Mijatović explained.
"But nowadays, our national team is getting really good.
"At the moment we're playing Euro qualifying and we have a good chance to qualify so, hopefully, if we do that, I think the situation will change so it will be better for every girl that wants to play soccer."
A 33-time representative of the Serbian national side since her 2011 debut, Mijatović began her club career with Serbian side ŽFK LASK before moving to Bosnia to play for SFK 2000 Sarajevo. She then returned to Serbia to play for its most famous club – ŽFK Crvena Zvezda – in 2011.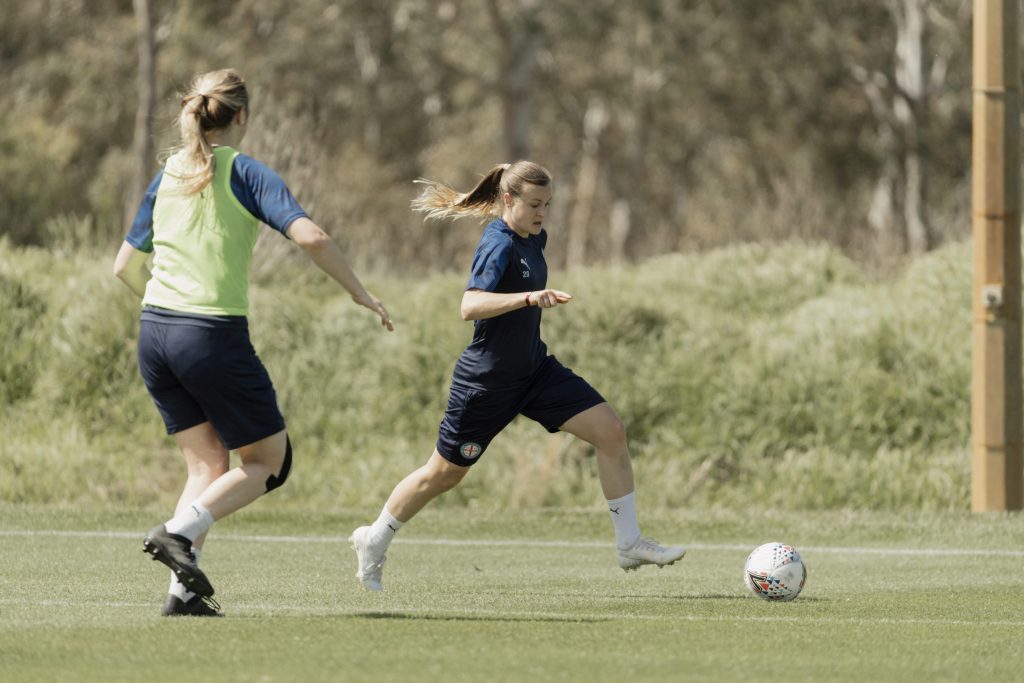 Transfering to Kazakstan club BIIK Kazygurt for a two-year spell in 2012 – playing Champions League football in 2012/13 – she had one further stint with Crvena Zvezda before spending time in France, Sweden (Mijatović was a teammate of Elise Kellond-Knight at Hammarby) and Norway.
Increasingly aware of the W-League's reputation, she then signed with City ahead of the 2019/20 season.
"Pretty much this club," the attacker said when asked what brought her Down Under. "And the competition I think, the competition is good. Because there is a lot of international quality players, top players.
"I think it's really high, the professional standards, and being [a] part of the City group is something big.
"I heard from Elise Kellond-Knight about Melbourne City in the first place and then I was talking a lot about it with my agent and we both thought that it was a really good place to be.
"I think it's [the W-League] pretty good in quality.
"Everything they told me about the team, about the club is… when I look at it it's even better so I'm enjoying it so far."
Watch Milica Mijatović's City play Melbourne Victory at the first Melbourne Derby of the season on Thursday 12th December. Kick-off 7.30pm, ABD Stadium, Broadmeadows. Broadcast on Fox Sports and the My Football App.