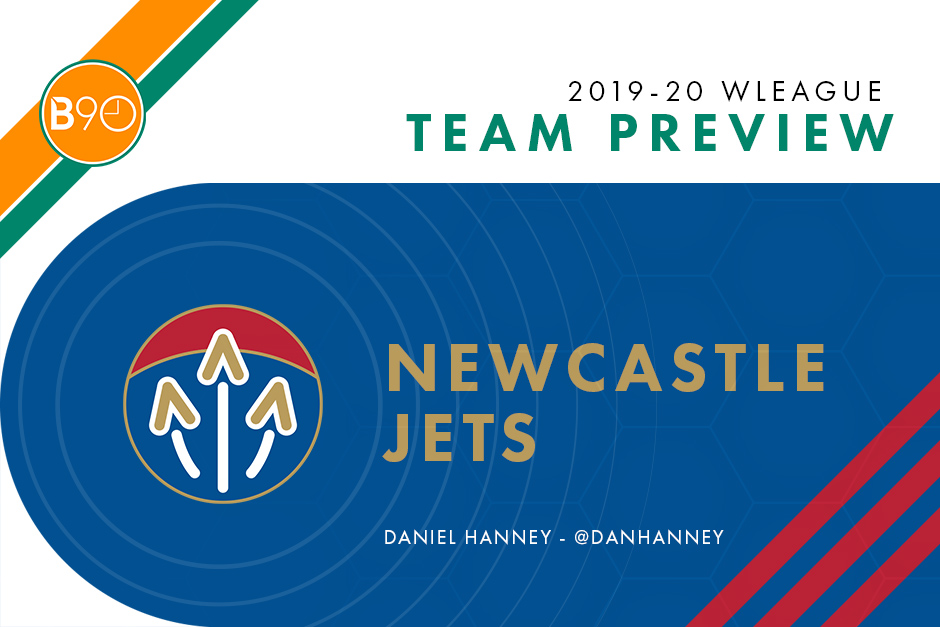 Newcastle Jets Preview
After pushing Sydney FC to the brink in the semi-final of 2017-18, and with the core of their squad returning, the start of 2018-19 was met with an air of buzz and excitement.
However, the hunters from the Hunter had become one of the hunted, and the Jets were under no illusion that they wouldn't necessarily have it all their own way at the second time of asking.
Little did anyone foresee exactly what would transpire. It was as though somebody had walked under a ladder or crossed paths with a black cat as key players fell to injures mid-season: midfielder Taylor Smith ruptured her ACL; hero of the 2017-18 campaign Katie Stengel succumbed to a stress fracture in her ankle; Emily van Egmond sprained her ankle during a training session; and Larissa Crummer broke her leg in a nasty collision in second-last game of the regular season.
Despite all this, the Jets still found themselves within touching distance of the finals. A group of mostly local players showed they have what it takes to stand up and match it with the rest of the competition, rounding out the season with a 4-1 thumping of Western Sydney to finish just three points outside the top four.
In 2019-20, that same local formula will be put to the test again, this time from the very beginning as they embark on a new campaign.
Ins and Outs:
Americans Katie Stengel, Taylor Smith, and Britt Eckerstrom, and Matildas midfielder Emily van Egmond are among the list of key players who will be not returning in 2019-20. Perhaps the biggest loss will be that of goalkeeper Eckerstrom, who pulled off some spectacular saves and kept the Jets in many a contest over the past two seasons.
Cortnee Vine – who had a breakout season last campaign, scoring the goal of the season – is another not returning.
New additions to the squad include Lauren Allan, a striker or wide player who top-scored for New Lambton in the Northern NSW WPL with 33 goals from 24 games.
Lighting-fast winger Nicki Flannery has joined the club for a fresh start after a couple of injury-riddled years in the nation's capital, and fellow Australian U20 international Annabel Martin will offer another option in defence.
The battle for the number one jersey will also be on, with goalkeeper Nicole Simonsen joining from Western Sydney Wanderers.
The Strengths:
While they may not have any big names on paper, the Newcastle Jets are confident that they have what it takes to match it with, and make life difficult for, any opposition this season.
The key to this will stem from the familiarity with one another with most of the group growing up in and around the club's culture through the youth system to the first team having played together at either W-League, NSW NPL, or NNSW WPL level.
Libby Copus-Brown, in her second year back after taking the 2017-18 season off, will be looking to cement a place in midfield. She told the Jets' website that keeping thing local could give them the edge. 
"It's a good feeling to have your friends around you when you're playing, and that comes off when you're on the field," Copus-Brown said.
"We've proven before that we can do it [at the back end of last season], we've just got to put our mind to it and look forward to the season."
https://twitter.com/NewcastleJetsFC/status/1189316040657903627?s=20
Hannah Brewer and Cass Davis marshalled the Jets central defence during their recent trial game against Sydney FC, and along with Gema Simon and Clare Wheeler will be the sounding board of experience to call upon.
The challenge:
The Jets proved towards the end of last season that they are more than capable without big international names, but it remains to be seen if the group can maintain it throughout an entire campaign.
Up front, Tara Andrews is more than capable of finding the net, but with Larissa Crummer a slim possibility to make it back this campaign more will be needed from the likes of Jenna Kingsley and new recruits Flannery and Allan or they may struggle to score goals.
Hannah Brewer (Defence)
A rock-solid defender and tenacious ball-winner, and a veteran of 93 W-League games, Brewer is a valuable asset capable of playing anywhere across the backline. Manager Craig Deans will most likely deploy her alongside Cass Davis in the heart the Jets defence. 
They may not be the tallest duo in the league but will be hard to get past.   
Clare Wheeler (Midfielder)
Wheeler was named in the leadership group replacing the departing Emily van Egmond, and will be tasked with that job on field too.
After taking out the club's Player of the Year award last season, and the Cheryl Salisbury Dedication Award 2 years running, Wheeler is more than capable of doing so as she continues her rapid rise in development.
Tara Andrews (Striker) 
The all-time club top scorer with 30 goals, Andrews will finally get to reprise the striker role full time after playing much of the past few seasons in a deeper midfield position, and will be looking to convert her years of scoring form in the local league to the top division more consistently.
Prediction: 7
th
The Newcastle Jets are unlikely to make the finals this year and may at times get overpowered by stronger opposition, but a fighting mentality born from being of Newcastle and playing for the city should see them roll their sleeves up, dig in, never surrender, and give it a red hot go.
If they do this, the fans will appreciate it and always give them a standing ovation off the park.
See the full squad here.