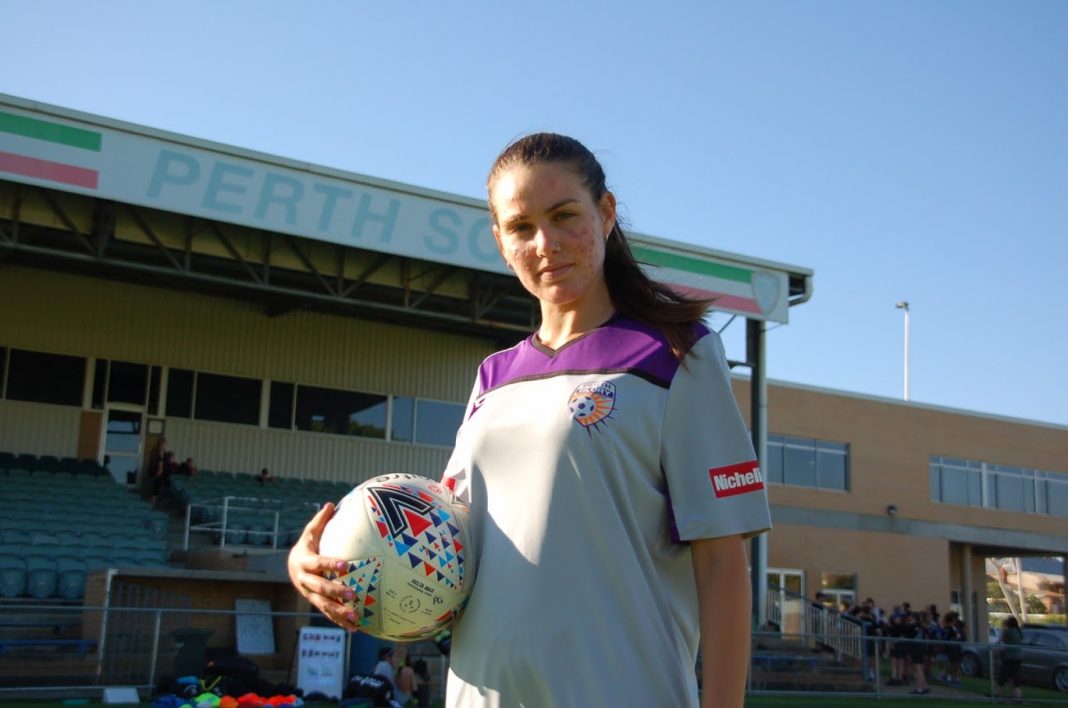 Perth Glory's new season may have only just begun, but there are already signs that the club won't hesitate in giving young and upcoming players the opportunity to make their mark in the W-League. One such player is 24-year-old Victorian Julia Sardo, who is determined to make that mark as large as possible. 
Originally from Melbourne, Sardo loved tennis, athletics and football from an early age before deciding that football was the game for her, as she "just had a passion for it" and commenced playing at a local women's club at the age of 10.
She played for Meadow Park for 2 years, before moving into the NTC system at the age of 13. Sardo went on to represent Victoria, and also Australia at U14 and U17 level. After leaving the NTC she moved to the Victorian NPL, but then suffered a serious knee injury which put her out of the game for 3 years.
She has just returned from her injury and has had a full year back in the Victorian NPL with Alamein, who also boast current Matilda Emma Checker and ex-Matilda Melissa Barbieri in their ranks.
Her return was fuelled by a desire to play in the W-League. Sardo trialled for Melbourne Victory, but no contract was offered. She then found herself with Melbourne City, but as they were not prepared to offer her a long-term contract Sardo opted to try out for Perth. 
This may have seemed a strange decision to make, given that Perth finished runners-up last season and competition for places was likely to be strong, but Sardo isn't afraid of hard work. She realised that as Perth Glory was the only option left for her to fulfill her W-League dream, then she had to make the most of the trial opportunity.
"If you want to make the W-League you've got to work your arse off," she said.  
After a week's trial in the west, she secured a contract, and then faced the difficult task of saying goodbye to family and friends. 
"I only had 2-3 days to go back home and pack my stuff before heading back to the west, so I was only able to say goodbye to close friends and immediate family."  
Whilst finding the temporary loss of family and friends a difficult hurdle to overcome, Sardo is determined to not let this hold her back.
"They (family and friends) will always be there. You go home and they'll be at home but this is my dream, so you've got to go big, go large to chase your dreams."  
She made her debut against Canberra in Round 1 and was full of praise for her teammates, singling out Kim Carroll and Shannon May as being vital parts of the squad this season, with many of the younger players looking up to them as role models.  
Coach Bobby Despotovski informed her she would be in the starting 11 during training in the week leading up to the game, and Sardo described the feeling of knowing she was playing as "amazing". In the game itself, she was up against Brazilian World Cup player Camila, a vivid illustration of just how far Sardo has come this year.
"I've had a big year, and I'm really proud of myself. I've come from the WNPL (and it's) my 1st year back there, I've then had trials for a W-League team, got a contract, been a starting player and then played 90 minutes so the feeling is indescribable, amazing and I'm very, very proud of myself."
Sardo has already passed some of her goals this season but wants to push herself even higher and isn't prepared to limit her dreams. Making the Matildas squad and playing in Europe at some stage are all in her sights.
---
See all our Perth Glory articles.