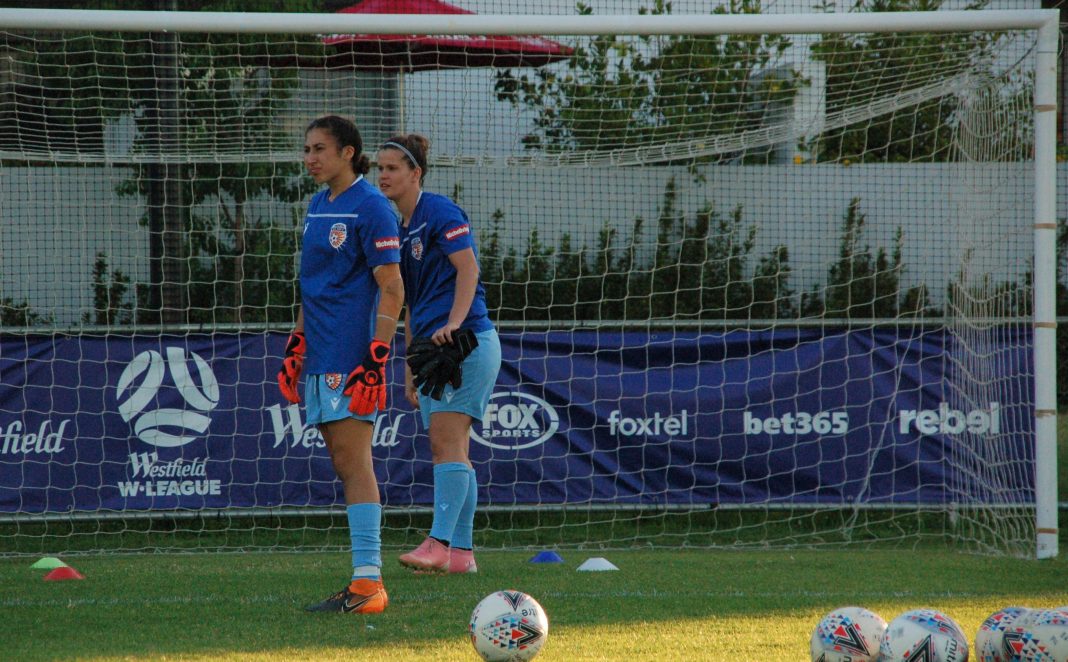 At every W-League game, there are 30 players eager to get some game time and experience the challenge of pitting themselves against the best in the country. Of those 30, it's not an unreasonable expectation that 28 of them will get to play, even if only for a few minutes. The only two who are most unlikely to get a run are the substitute goalkeepers for both sides. These players know that they won't be put on for tactical reasons and that the only way they will get a game will be if the 1st choice keeper has a serious injury, or is given a red card. Even if they do come on, they must live with the knowledge that one small mistake can lead to a goal and for that reason the reserve keeper is under more pressure than the outfield substitutes.
For example, during last season's semi-final match between Perth Glory and Melbourne Victory, Beth Mason-Jones had to come off the bench at half time when Casey Dumont failed a concussion test. She then had to face the daunting prospect of trying to keep the much-vaunted Perth Glory strike force at bay in a semi-final in her first game of the season.
The current Perth Glory reserve goalkeeper, Morgan Aquino, has been no stranger to this situation both at Perth Glory and with the Young Matildas. Even though Perth Glory are struggling this season, the form of 1st choice custodian Eliza Campbell has again been excellent and so Aquino has found herself sitting on the bench for every game knowing that it is unlikely she will get any game time.
Aquino remains upbeat about this though and recognises that at the elite level the reserve goalkeeper must be patient and wait to be called upon. She said that through this shared experience goalkeepers are very close and that it would be unusual if the keepers in a squad didn't get along. This often leads to strong bonds between them.
"People talk about goalkeepers union, and it's a lot like that. We train separately, do our own thing and then join in when the team needs us," said Aquino.
When it comes to game day, Aquino says that her number one priority is to ensure that she helps Campbell, or her Young Matilda teammates, warm up as best they can to ensure they are ready to play their best and so help their team to victory.
When asked if she was frustrated about a lack of game time, Aquino had this to say:
"I've been in this position a long time and all I can do is train really well and have the right attitude. I can't complain and I just have to do the best I can, and get my game time during training."
When describing the qualities needed to be a successful goalkeeper Aquino highlighted that the need for good communication is paramount.
"I don't really want to touch the ball (in a game). If you're not communicating well then the ball can get through. If you communicate and do everything right, then you don't really need to touch the ball."
Aquino started playing the game at a young age and would alternate her game time between playing striker and goalkeeper. She was noticed by ex-Perth Glory player and then Western Australia state coach Elisa D'Ovideo, who invited Aquino to join the Under-13 state squad. Whilst playing for Western Australia at the National Championships she was noticed by national selectors and has been part of the Junior and Young Matildas set up ever since, playing in Lebanon, Thailand, Indonesia and Myanmar.
Aquino is regarded highly in the Western Australian scene and was the Women's Premier League Goalkeeper of the Year in 2019. She is well placed to step up as the Glory number one whenever the time comes for Campbell to relinquish that position.
---
Read more Perth Glory coverage on Beyond 90.