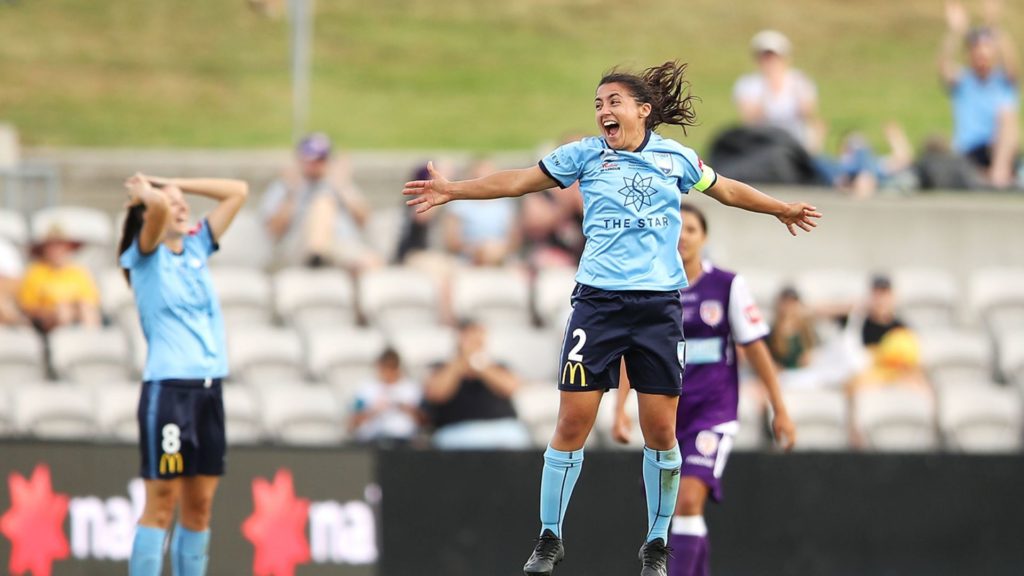 In these uncertain, unprecedented times, it is increasingly difficult for people to find consistency in their day-to-day lives.
With football – and sport more broadly – around the world grinding to a halt due to the ongoing coronavirus outbreak, there seems precious little remaining onto which society can hold.
And yet, even as the world decays around it, there is a normalcy to be found within our own W-League: for the third time in five seasons the competition's crescendo will feature Melbourne City and Sydney, the two teams vying for the right to hold that famous trophy aloft under a grey March sky in Melbourne.
Although the gates at Swan Street will remain locked, and only essential staff will be permitted into the venue, there's no doubting that both City and Sydney will know the importance of the fixture, as both teams chase a slice of history as well as another piece of silverware.
These two clubs, for better or worse, have been the yardstick of the W-League for the past half-decade; Melbourne City has undoubtedly raised the bar in terms of professionalism for all women's sport in Australia, while Sydney has maintained its place as the only club to have featured in the W-League finals in every season of its existence.
In fact, the two clubs' dominance could span not only the previous five years, but the entire history of national-level women's football. Victory for either club will confirm them as the greatest in terms of W-League championships since the competition's inception, and would see them sit alongside the great Queensland Sting teams of the now-defunct Women's National Soccer League of the 1990s and 2000s.
That weight of history rests easy on the shoulders of Sydney captain Teresa Polias, even if the midfield stalwart acknowledges the massive task of taking down an undefeated Melbourne City juggernaut.
"[Melbourne City] have done extremely well in their time in this competition but, you know, our club's a successful club as well and we've got records to keep and break," Polias said.
"Obviously, we want to go back-to-back and we know there's a huge mountain ahead of us, but we also know that on our best day we can beat anyone."
"The last time we met it was a close game, not our best at all, but then again, they were sort of finding their way in the competition, so there's not a lot we can really take from that game."
"[As for] going in as the clear underdogs, anyone that's up against City is an underdog. But like I said before, to win we've got to be at our best."
While the ongoing COVID-19 pandemic is inescapable, Polias said that players were doing their best to maintain a sense of normality throughout the week leading up to the match.
"Look if you're trying to switch off from what's happening, you can't," Polias said.
"This is going to be an occasion that we'll remember for the rest of our lives for sure."
"We were asked about how we feel about the situation, obviously we wanted to play, we didn't want the competition to end then.
"The situation is ever-changing – hour to hour – so like I said before, we listened to the advice from those above and we trust that what they've said is the best way to go about things.
"At the end of the day we're sort of lucky that we're able to still do something that we love and making sure we're taking precautions at the same time."
It's not just the players on the pitch who would be writing themselves into the history books with a win in the Big Dance.
For Sydney manager Ante Jurić this year's grand final is an opportunity to become the first W-League head coach to win consecutive championships, and while he shared his skipper's confidence, he acknowledged his team was under no illusions as to the quality of their grand final opponents.
"No professional players go into a game thinking they can't win, so we're definitely out there to win and confident in our own abilities," Jurić said.
"However you're right in terms of Melbourne City, they're probably expected to win – undefeated, with 11 of 15 internationals in the squad – so I think the pressure's on them a bit more than probably us but we're definitely not going into the game thinking we can't [win]."
In contrast to Melbourne City's almost metronomic starting XI, Sydney's teamsheet has been shaken up in recent week by both injury and a busy January transfer window, but Jurić maintained that his side had the quality and versatility to match the Premiers when it mattered.
"The girls know even when we had so-called big guns, we don't rely on them and never have," Jurić said.
"Whoever comes in, we know can do a job – I've got belief in every single player."
"That's the way we take things on and that's the way we have been for three years, so anyone who comes in – young or old, experienced international or non-international – we have high belief [in them] and we know they can do a job."
As for how those players would do that job however, Jurić gave little insight into exactly how Sydney would pick apart this Melbourne City side, but believed his team will have what it takes to be crowned champions once again.
"We're just focused on our work-rate, doing the right things, working together defensively, and then just being confident on the ball," Jurić said.
"The little details and tactics are probably for us to know but yeah, those other things are things we've done most of the year, and if we do that when we get out on the field, we'll be okay."
---
Follow our W-League coverage.