In this series of Beyond 90 articles, a standard set of questions is posed to women who have different roles both in and around the 2019-2020 edition of the W-League.
This instalment focuses on the role of Club Administrator, with Canberra United's Membership and Ticketing Coordinator Amber Harvey in the spotlight. An employee of Capital Football, Amber also holds the roles of Digital Services Co-ordinator and Digital Services Manager for the Kanga Cup. She somehow finds time over the winter season to play for Tuggeranong United in NPLW1/Reserves and coach a junior girls football team.
Previous instalments in this series:
The Team Captain
The Referee
A Player's Mother
The Photographer
The Coach
The USA Fan
The International Advocate
1. Who or what got you into the game of football?
My friends did! The boys would play at lunch time in primary school, and myself and a few female friends would join in. I ended up making a school soccer team and taking out the PSSA championship in NSW, despite the fact that more than half the team had never played football before. After that I was invited to join a team at a local club, and haven't stopped since then.
2. What is your favourite memory of a football game?
The Canberra United semi-final against Melbourne City in 2016-17 was pretty spectacular. Not the result I wanted but I was on the edge of my seat the entire game. I swear extra time has never felt so long and so short simultaneously.
3. What was your first W-League game?
I'm originally from near Newcastle, so my first taste of the W-League was the Jets when they were playing out of Magic Park. I think that year they had Emily van Egmond, Lisa De Vanna, Alanna Kennedy, and Melissa Barbieri. My coach brought the whole team along to watch them, I loved it.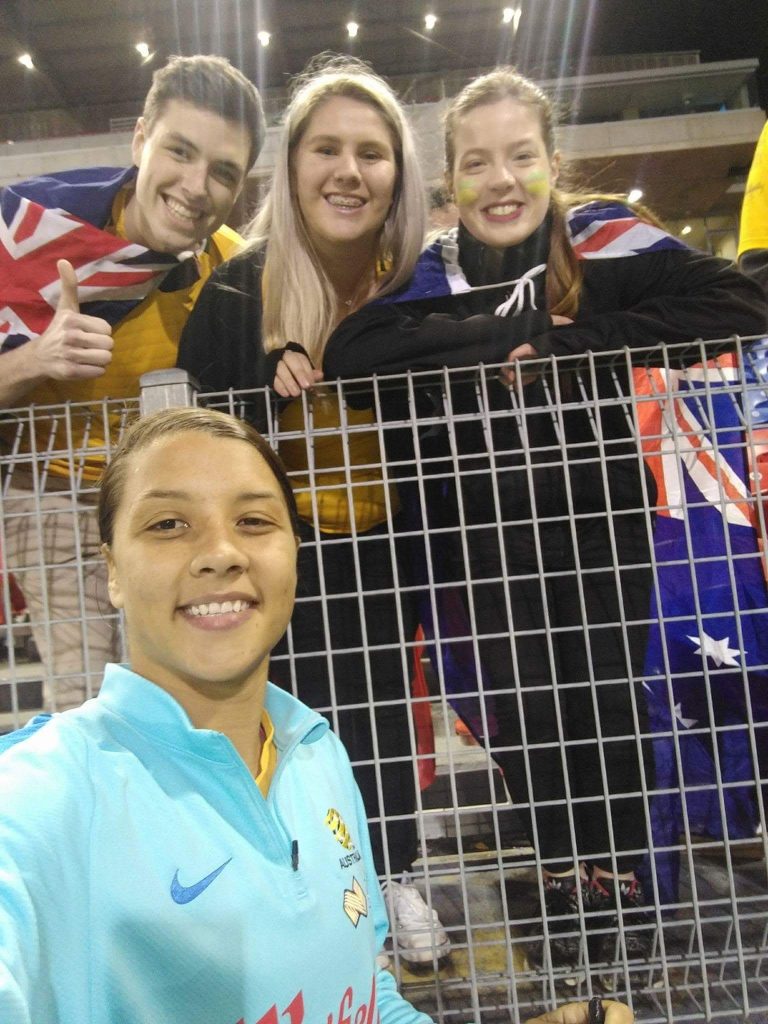 4. Who is your favourite female player in the world? And do you look up to any other club administrators?
This is such a tough question! At the moment I'd say my favourite player is Tobin Heath from Portland Thorns, she's always so dangerous with the ball. The way Ada Hegerberg keeps breaking records though – she comes a close second.
For club administrators, again it's so hard to pick just one. It takes a lot of work to get a team out onto the park. We have a great "behind the scenes" team here at Canberra United, and anyone who has to deal with registrations also has a special place in my heart.
5. What is your Canberra United game day routine? 
Get a good night's rest! You have to be ready for anything on game day, and a lot of running around!
It's all hands on deck in the morning to get the venue set up, and then I focus on the ticketing area – all of the signage, ticket lanes, computers and equipment. For the first game of the season there's also the membership item collection, and all those member cards that need lanyards put on. Our first game is usually one of our biggest attendances, so it's go go go until around halftime. I try to keep an ear out for the crowd to know if we've scored or not.
After the game we pack everything up, and get ready for an early morning in the office the next day so we can organise Round 2!
6. What is one thing that will always make you think of football?
I'm kind of a hoarder, and I keep everything football related. I have jerseys from every club I've played at which my mum has been begging me to throw away. I have all of my membership items from my first season as a Canberra United member, and the tickets from my first Matildas game. My entire room will always remind me of football!