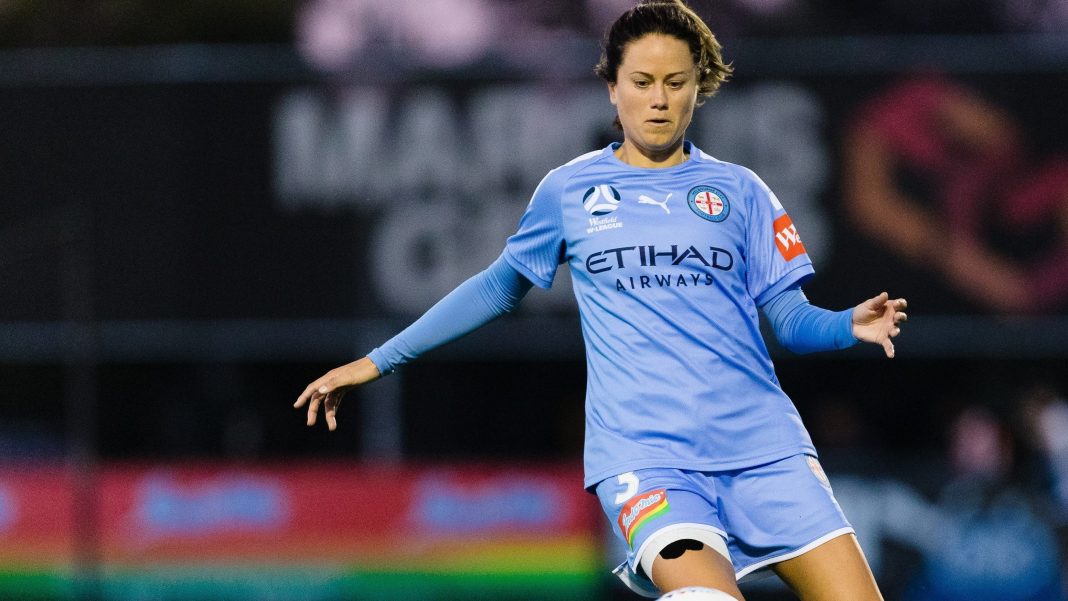 The eyes of the nation may have been centred on the Matildas' Olympic qualifying exploits but for those W-League players not called up to Ante Miličić's side, the grind has continued.
At Melbourne City, whose last game was a 2-0 win over Newcastle Jets, the long international break means the side from Bundoora will have gone 29 days between competitive hit-outs when they run out against Melbourne Victory on Sunday afternoon.
And with Steph Catley, Aivi Luik, Lydia Williams, Ellie Carpenter, Kyah Simon and tournament hero Emily van Egmond all representing the Matildas in qualification, their ranks have been more depleted than most – an average of just nine under-contract players taking part in training over the break.
This has forced some level of adjustment from Head Coach Rado Vidošić and his playing group, with small-sided games, fitness work and games against some of City's junior boys' sides all on the agenda as they attempt to keep things ticking over.
"We've had good training sessions and a few practice sessions against the boys," defender Rebekah Stott said.
"The girls have been working really hard and the staff are happy, but we're eager to get a W-League game back.
"The first two weeks were pretty hard, they pushed us quite a bit – lots of gym. This last week they've kind of eased off on the loading to get us back into routine and back ready to play."
While the players assembled at star-studded City have access to facilities and support staff among the most professional in all of women's football – Wales and Seattle Reign superstar Jess Fishlock rehabbing her ACL at the City Football Academy in recent weeks – the jarring transition from a season in full flight to what almost amounts to another pre-season has nonetheless presented a challenge to those toiling away day in and day out.
According to American defender Lauren Barnes, the ability to make the best out of the situation has boiled down to a combination of the players mental fortitude and the attitude and expectations set by the club.
"There's still so much to work on when the Matildas are away," Barnes said.
"Sometimes we have the numbers, sometimes we don't. Each day we go in and have a good attitude, work hard and try to get as much as we can out of the sessions. I think we've done really good with that.
"Obviously when you know there's a break, and there are no games to look forward to, it does become a mental battle. But it's part of the job, so you've got to get it done.
"For me, I could always get better, so you make sure you go out and focus on that. I think that's been the biggest thing for me.
"Obviously we also have a young group with everyone gone and one of my biggest focuses as an experienced player is also to help them. It's a great opportunity for them to get games, get minutes and to better themselves.
"This is a hard squad to come into. I think it's a big challenge for some of the young girls, they go in knowing that it's going to be tough, but it's really going to pay off in time.
"It's a high standard club, results are what drive us here. When we come in here and grind, we all have that same mental drive and competitiveness. Each year I come in thinking that we should be clean sheets, be undefeated.
"You have to have that mentality when you play here."
Fortunately for City's defensive pair – and the competition's fans – the long wait between W-League drinks is finally set to end this weekend when the league returns for round 12.
City, in a game that was originally scheduled for Thursday but was moved to Sunday in the wake of the reshuffling of the Olympic qualifying schedule, is set to take on Melbourne Victory in the season's second Melbourne Derby.
While the fitness levels of Williams, Carpenter, Catley, van Egmond, and Simon – all of whom featured in Australia's dramatic 1-1 draw with China PR on Thursday night – remains to be seen, mustering up motivation for the encounter shouldn't be a problem for the W-League ladder leaders.
Should Saturday night's Sydney Derby end with the spoils being shared, a win over their navy-blue rivals would secure City their first Premiership plate since their all-conquering debut season in 2015/16.
"It's the biggest game of the year for us," Stott said.
"Victory has got a few over us, so we definitely want to win this game and, if we win, we could potentially be the Premiers of the season so that's definitely in our minds.
"We want to get that back and show the league that we are the top.
"This is one of the best squads I've been in, not just here but around the world.
"We're so consistent at the moment, which is good. I don't think we've fully reached our potential yet, which is a good thing because we're still winning games."