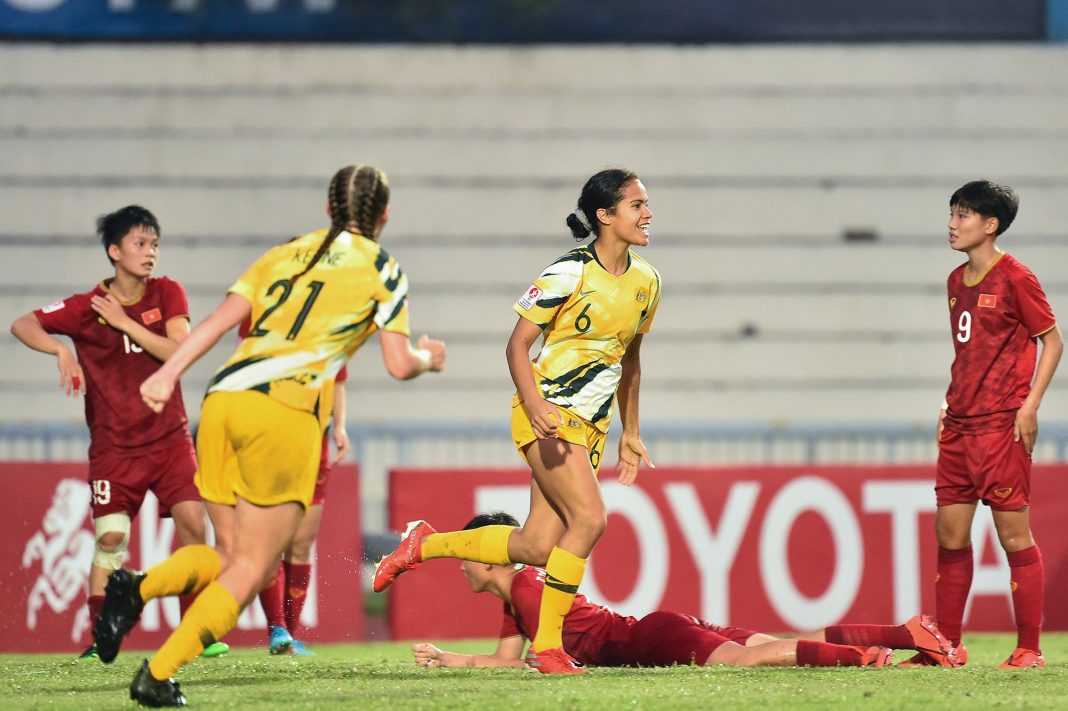 In a water-logged contest at Chonburi Stadium, the Young Matildas have emerged victorious over Vietnam, booking their spot in the AFC U-19 Championship semi-finals.
A determined team performance from the Australians and a late clincher from goal scorer extraordinaire Mary Fowler settled the nerves of Leah Blayney's squad, sending the hard-working Vietnamese team home.
FT: AUS 🇦🇺 1 – 0 🇻🇳 VIE

Heartbreak for Vietnam. Australia are through to the last four as Group A runners-up! pic.twitter.com/GplIp5QK8k

— AFC (@theafcdotcom) November 2, 2019
Blayney stuck with the 4-5-1 formation used in both previous games of the tournament, however made some changes to the starting line-up from the victory against Thailand. Chelsea Blissett replaced Claudia Mihocic in the centre-left of defense and Princess Ibini was switched out for Susan Phonsongkham at left-wing. Interestingly, Kyra Cooney-Cross replaced Angelique Hristodolou in centre midfield, an unusually central and defensive role for Cooney-Cross who started (and scored) from left wing against DPR Korea.
The Golden Girls coach Ijiri Akira stuck to a defensive 5-4-1 formation, and made only one change to the starting line-up from their loss against DPR Korea, replacing right-back Phan Thi Thu Thin with left-winger Ngo Thi Hong Nhung. This allowed them to rotate Ngan Thi Van Su from left-wing into the striker position while pulling back Nguyen Thi Tuyet Ngan into right-wing.
While remaining defensive, these changes proved that Vietnam were looking for more than the draw that would see them through to the semi-finals. The reworked combination proved threatening as Thi Tuyet Ngan looped balls over the top of the Australian defence to Thi Van Su, who came close to scoring on more than one occasion.
Cooney-Cross showed immense composure in her perhaps experimental position in central midfield, often attempting to send similar overhead balls through to Fowler with her powerful right boot. In the earliest chance of the match she sent a solid pass to Lowe, who flicked a perfectly weighted through ball, Fowler taking a first-touch shot that was blocked by defender Nguyen Thi Xuan Diep.
This quick and fluid play from the Matildas was slowed throughout the first half by the viscous pitch. While rain continued to pour, all players struggled to dribble through midfield and maintain passes along the ground.
Though it was the Young Matildas who dominated possession, it was Vietnam who ended the first half with more shots: five to Australia's two. This saw Leah Blayney substitute Shadeene Evans, who had been working hard to get back and defend when needed, for seasoned attacker Princess Ibini. In defence, Tessa Tamplin was also substituted for Charlotte Grant, who proved valuable in launching attacks from deep.
All Australian hearts stopped in the 53rd minute when Vietnam captain Nguyen Thi Tuyet Ngan was delivered an excellent ball on the run and seemed likely to score. Her second touch to the ball was enough to get it past Annalee Grove, whose diving body softened the power of the shot but couldn't stop it rolling towards the goal-line. The Matildas were aided by the wet pitch in this instance as the ball stopped short in its tracks and was cleared by Karly Roestbakken.
A valuable change in the 60th minute saw Aideen Keane come on for Susan Phonsongkham, who had done well to show off some of her skill considering the water-logged conditions. Keane's fresh legs provided a vital attacking change which saw the game begin to open up for the Young Matildas.
Courtney Nevin once again demonstrated her ambition to shoot from outside the box with a beautiful strike that was tipped over the crossbar by Nguyen Thi Coan in the 67th minute. Minutes later she curled a cross into Lowe on the far post who mishit the ball on the volley but was caught by a backwards running Fowler who headed it in. Fowler was ruled offside, but with this momentum the Australians continued to push forward.
The last twenty minutes of the game saw a fighting, never-say-die Young Matildas team truly rise to the challenge. In the 84th minute, they finally got the goal they needed. Charlotte Grant escaped Tran Thi Duyen with some quick footwork on the left flank and released in the direction of Mary Fowler in front of goal. The ball was pushed away by goalkeeper Nguyen Thi Coan and bounced off a Vietnamese defender but fell to Ibini who laid it off for Fowler with a delicate touch. Fowler struck it home from close range, and with that all the Matildas had to do was defend their advantage for ten more minutes.
Defend they did, and a joyous Young Matildas squad are now off to the semi-finals on Wednesday night where they'll meet either Japan, China or South Korea. Leah Blayney's side are one step closer to qualifying for the U-20 World Cup next year, but regardless of the opponent, the semi-finals will be a tough competition.
#AFCU19W Group A standings after Matchday Three!

👏 DPR Korea 🇰🇵 and Australia 🇦🇺 are in the last four! pic.twitter.com/WjRAJZq0yh

— AFC (@theafcdotcom) November 2, 2019
Australia 1 (Mary Fowler 84′)
Vietnam 0
Australia: Annalee Grove; Chelsea Blissett; Karly Roestbakken; Courtney Nevin; Tessa Tamplin (Charlotte Grant 45′); Rachel Lowe; Kyra Cooney-Cross; Hollie Palmer (YC 45+1'); Susan Phonsongkham (Aideen Keane 60′, YC 73') Shadeene Evans (Princess Ibini 45'); Mary Fowler.
Vietnam: Nguyen Thi Loan; Nguyen Thi Xuan Diep (YC 90'); Nguyen Thi Tu Anh (substituted 74'); Tran Thi Hai Linh; Nguyen Thi Tuyet Ngan; Tran Thi Duyen; Ngo Thi Hong Nhung (Phan Thi Thu Thin 66'); Nguyen Thi Hoa; Ngan Thi Van Su (Nguyen Thi Thanh Nha 77'); Luong Thi Thu Thong (YC 82'); Cu Thi Huynh Nhu