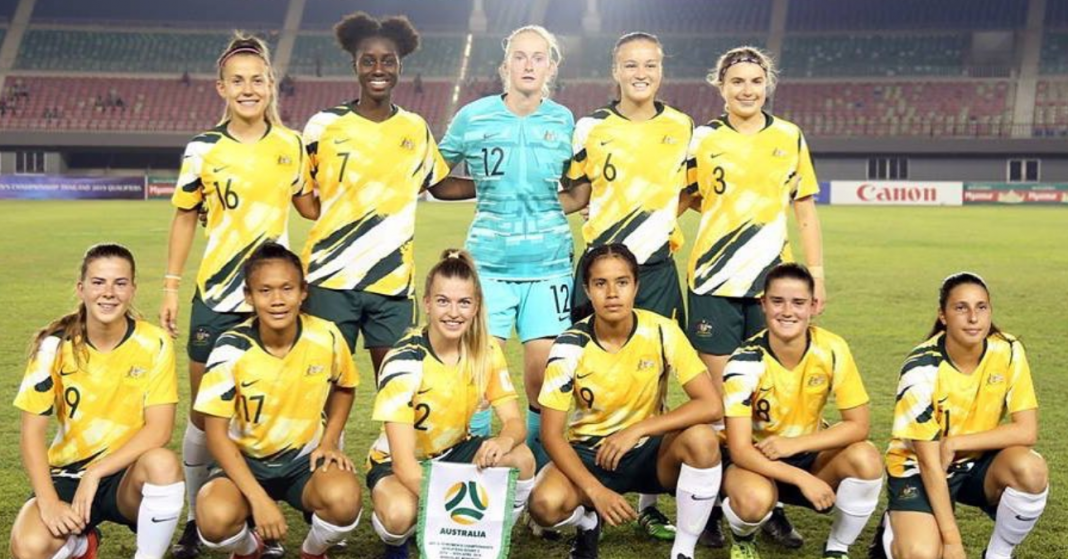 The Young Matildas have suffered a heavy defeat to DPR Korea in their opening AFC U19 Women's Championship match, going down 5-1 to the 2017 tournament runners-up in Chonburi.
Despite taking the lead after 16 minutes through a brilliant Kyra Cooney-Cross header, Australia were outmatched and outclassed by a ruthless DPR Korea team, with three goals in quick succession late in the second half snuffing out any potential comeback.
FT: PRK 🇰🇵 5 – 1 🇦🇺 AUS

DPR Korea claw back from a goal down to carve a massive victory in their #AFCU19W campaign opener against Australia! pic.twitter.com/FJCMdzRq4m

— AFC (@theafcdotcom) October 27, 2019
With the winner of this match likely to progress top of Group A, Leah Blayney's side set up in an attack-minded 4-1-4-1 formation, with wide midfielders Cooney-Cross and Indiah-Paige Riley pushing forward in attack to support lone striker Mary Fowler.
Almost from kickoff, DPR Korea put manager Song Sung-gwon's plan into action, working hard in fits and spurts to pressure the Young Matildas into errors in the middle third of the pitch.
Usually happy to drop back into shape if their pressing wasn't immediately successful, the Koreans made Australia's progress difficult, moving as a unit to swarm attacking players as soon as they got an eye for goal, often sending three and four defenders to surround a solitary gold shirt and regain possession.
This defending from the front was paying dividends for DPR Korea, as their left-sided midfield pairing of Kim Yun-ok and Ri Su-jong continued to pick off loose passes from defenders Charlotte Grant and Karly Roestbakken, immediately looking to work forward to strike partners Kim Kyong-yong and Kim Hyang.
DPR Korea went close to taking the lead after just 13 minutes, after Ri followed some neat interplay between herself and Kim Yun-ok with a low drive from 25 metres, only for Australian stopper Annalee Grove to save easily.
Three minutes later, the Young Matildas hit the front against the run of play; bursting down the right flank, winger Riley played an inch-perfect curling cross to the back post for Cooney-Cross to meet with an exquisite diving header that would be more than at home on any striker's highlight reel.
Australia had barely finished celebrating when the Koreans had equalised on the back of an incisive counterattack.
Seeing defensive midfielder Ciara Fowler caught out of position, DPR Korea flowed through midfield like quicksilver, with Kim Hyang dropping deep to draw Roestbakken into midfield, then peeling away to set Kim Kyong-yong free down the left.
With Roestbakken and Fowler both struggling to make up ground on the fleet-footed Kim, she cut inside and lashed her shot at defender Chelsea Blissett, before strike partner Kim Kyong-yong turned the rebound home.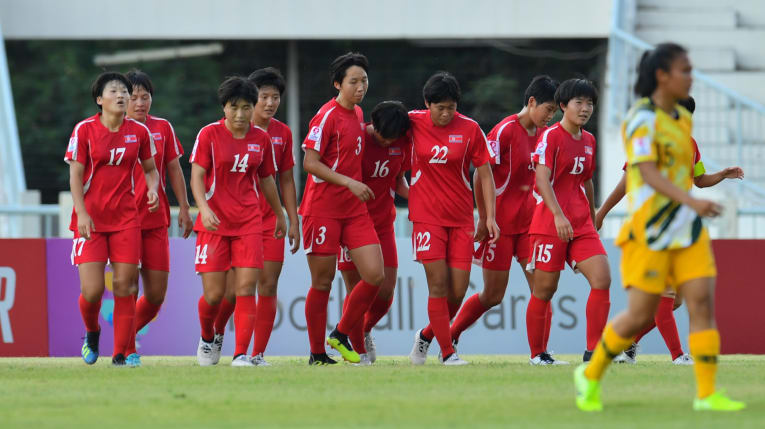 The Koreans would take the lead on the half-hour mark after a superb overlapping run from left back Ryu Sol-song, whose low driven cross picked out the charging Yun Ji-hwa, somehow ghosting unattended into the area to smash home her first-time shot from the penalty spot.
Despite DPR Korea's intense pressure, they didn't have it all their own way as the half wound down, with Young Matildas striker Mary Fowler dancing through the Korean defence to shoot from just outside the box, only to put her shot wide of the goal.
With work to do in the second half, Australia withdrew Riley for the more direct Princess Ibini, with Cooney-Cross switching flanks in a much flatter front line than previously deployed. That switch seemed to pay dividends early in the second term, as the front three worked to get in behind the Korean defence, rotating with attacking midfielder Susan Phonsongkham as needed in order to push forward as a unit.
Australia's best chance of the second half came through a neat flowing move through midfield, as left back Courtney Nevin's sliding tackle squeezed the ball to Phonsongkham near halfway, the attacking midfielder playing Fowler into space only for her to turn back on her left foot and be marshalled away from goal by centre-back Son Ok-ju and the retreating Korean midfield.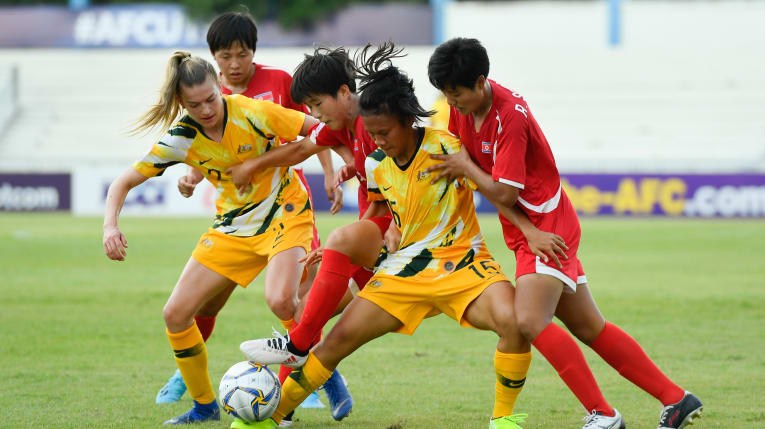 DPR Korea could've added a third just after the hour mark, if not for a brilliant piece of covering defence; winning the ball in midfield from outnumbered Ciara Fowler, Korea found Yun Ji-hwa barrelling towards goal with Kim Yun-ok for company. Bursting into the box, Yun waited a moment too late to play a square pass to Kim, only for skipper Roestbakken to come from the clouds and whip the ball off her toe, clearing to the safety of the sideline.
As the heavens opened in the closing quarter-hour, DPR Korea's dominance finally began to pay off, and they found their third goal. Kim Yun-ok made up for her wastefulness in front of goal only moments ago by swinging in a perfect back-post corner, and Korean captain Ri Kum-hyang rose above both Mary Fowler and substitute Aideen Keane to place her header back across goal and inside the near post.
Just nine minutes later, DPR Korea further stretched their lead, this time through Pak Il-gyong, after the substitute expertly controlled a whipped cross from left-back Ri Sin-ok in what was now a torrential downpour, taking one touch to set herself and another to fire under Grove's diving grasp.
With two minutes of regulation time remaining, the Koreans completed the rout, capitalising on a tired and stretched Young Matildas defence to score their fifth for the evening. Spotting Nevin out of position after a driving run into midfield, Kim Kyong-yong slid a diagonal pass in behind the covering Australian defence to Kim Yun-ok for the winger to squeeze her shot under Grove.
Leah Blayney's side will have plenty of work to do moving forward, as despite their dominance in possession and superior passing accuracy, Australia's inefficiency in attack saw them register just a single shot on target and six touches inside the opposition penalty area, compared to DPR Korea's eight shots and 30 touches.
Australia currently sit bottom of Group A after hosts Thailand were beaten 0-2 by Vietnam, with the Young Matildas taking on Thailand on Wednesday night.
DPR Korea 5 (Kim Hyang 19', Yun Ji-hwa 30', Ri Kum-hyang 74', Pak Il-gyong 83', Kim Yun-ok 88')
Australia 1 (Cooney-Cross 16')
DPR Korea: Yu Son-gum; Ryu Sol-song, Ri Kum-Hyang, Son Ok-ju, Ri Sin-ok; Kim Yun-ok, Ri Su-jong, Ri Su-gyong (Pak Hyon-jong 71'), Yun Ji-hwa (Jong Yun-mi 84'); Kim Kyong-yong, Kim Hyang (Pak Il-Gyong 54').
Australia: Annalee Grove; Courtney Nevin, Chelsea Blissett (Tessa Tamplin 61'), Karly Roestbakken, Charlotte Grant; Ciara Fowler (Aideen Keane 70'); Kyra Cooney-Cross, Rachel Lowe, Susan Phonsongkham, Indiah-Paige Riley (Princess Ibini 46'); Mary Fowler.