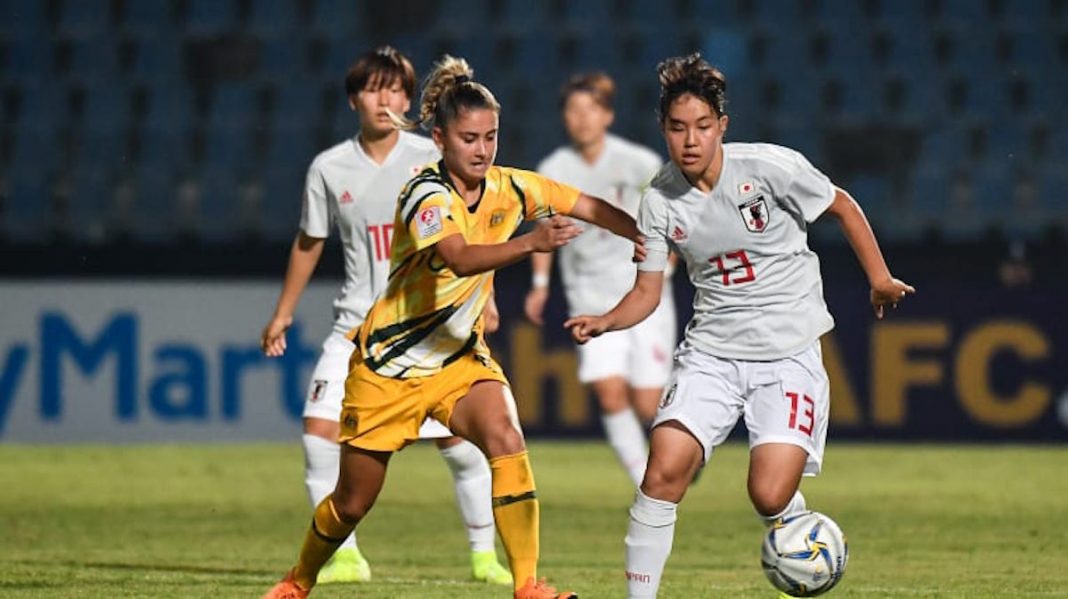 Reigning U-20 world champions Japan have continued on their quest to secure a third consecutive AFC U-19 Championship title, dispatching the Young Matildas 7-0 in Chonburi early Thursday morning AEDT.
Two goals in quick succession to Japan midway through the first half made Australia's qualification for the final difficult, but three further goals after the break turned that task from herculean to impossible in only a matter of minutes, before a late double to substitute Maho Hirasawa sealed the Young Matildas' fate.
https://twitter.com/theafcdotcom/status/1192091900968353792
Japanese manager Futoshi Ikeda tinkered somewhat with his starting XI after the side's 2-1 win over China in the final group stage match: first-choice goalkeeper Momoka Tanaka was returned to the line-up in place of Maya Ino, while left wingback Shino Matsuda was selected ahead of Chihiro Tomoika, and striker Yuzuki Yamamoto was preferred to Momo Kato.
Young Matildas boss Leah Blayney made several changes to her side after their last-gasp 1-0 win over Vietnam, with Karly Roestbakken's suspension meaning Claudia Mihočić partnered Chelsea Blissett in the heart of defence, Deborah de la Harpe was given her first start of the tournament in place of right-back Tessa Tamplin, while a new-look five-player midfield was deployed behind mainstay striker Mary Fowler.
Having made the semi-finals of their last four tournaments – a run of form that had seen them win two Asian Championships and a World Cup – Japan are truly the hottest U-20 women's team in the world. With a near-impenetrable defence, a midfield humming with endeavour and precision, and a strike force capable of eking chances out of next to nothing, Australia would have known before kick-off that Young Nadeshiko were not a side to be taken lightly.
That imperious form quickly showed, as Japan worked immediately from kick-off to pin Australia in their own half. By what felt like sheer force of will – but was in fact incredible anticipation and brilliant marking – Japan limited the Young Matildas to a single meaningful possession inside their attacking half, with striker Mary Fowler latching onto a long pass from Mihočić after seven minutes, only for the striker to lose control of the ball as it bobbled over the Japanese byline in what was the first real chance of the match.
Two minutes later Japan crafted a first opportunity of their own, as left winger Sara Ito wriggled free inside the Australian area and shot from a tight angle inside the six-yard box, only for her shot to roll harmlessly across Annalee Grove's goal for a goal kick.
With 20 minutes played, and having limited their opponents to only a handful of opportunities to actually possess the ball for more than an instant, Japan earned themselves a penalty kick. Pouncing on a loose ball inside the Australian box, left-back Matsuda touched past Indiah-Paige Riley only to be unceremoniously bundled over by the Australian winger and win the foul. Midfielder Oto Kanno stepped up and confidently swept her shot into the bottom left corner to give her side the lead.
Just over two minutes later and the reigning champions had doubled their advantage through striker Haruki Osawa; with nine Australian defenders stacked in front of their penalty area, Japan teased them from left to right, their opening goalscorer Kanno playing Morita into the right attacking corner with a diagonal ball into space. Having dragged their opponents' defensive line back into their box, Morita played back to central midfielder Momo Nakao, who clipped a glorious lob over the now-advancing Australian back five onto the toe of Osawa, who simply guided the pass inside the far corner to extend the lead.
Now two goals ahead, Japan continued to poke and prod even more vigorously the Young Matildas' deep-seated defensive lines, with Kanno and Nakao working in tandem to find slivers of space between the lines, while Osawa forced a sharp save from Grove inside the six-yard box and Takahashi had Grove scrambling across her goal to see out a deflected stoppage-time header.
Young Matildas manager Blayney withdrew Riley and Courtney Nevin at half-time, opting for like-for-like substitutions, with Princess Ibini and Charlotte Grant respectively looking to push further into the opposition half and create more opportunities on what would likely be counter-attacking raids out of the constant Japanese pressure.
Within three minutes however, Blayney's best-laid plans quickly went awry as Osawa netted her second goal for the night, and Japan's third. Spinning away from two defenders, Osawa played a neat short pass to Nakao on the edge of the box, which Nakao duly returned with panache, scooping the ball over the Young Matildas defence for Osawa to control and slide past Grove for a three-goal lead.
Five minutes into the second half, things went from bad to worse for Australia as Yamamoto got in on the act, accepting Kanno's pass on her left foot with her back to goal, Cruijff-turning out of a pack of three markers and firing her shot into the top left corner with aplomb.
On 52 minutes, Japan added a fifth goal through left-winger Sara Ito; as the Australian defence flattened and strung out across the edge of the penalty area, Yamamoto dropped deeper into midfield to collect a return pass from Morita. With no defenders advancing from their set lines, Yamamoto picked her head up and played a swinging cross to the back post for Ito, who jumped over the taller de la Harpe to head past the sprawling Grove from six yards.
Young Nadeshiko continued to dominate possession and position throughout the second half, working Australia from side to side, pulling at the threads of their defence and looking to unravel the whole sweater. A continued 25-minute spell of pressure after Ito's goal would see Japan craft more than a half-dozen opportunities on goal – four inside the penalty area – only for them to be blocked or fly just wide of Grove's goal.
That sustained duress on the Young Matildas' goal eventually told, with Hirasawa adding Japan's sixth goal with 10 minutes of regulation time to play. As time ticked down, Australia slowly edged further out of their defensive half, pushing their front five players up to halfway in the hope of cutting off passing lanes further up the pitch. With the lines stretched however, Japan looked to get in behind their opponent's tired defence, and with one curling 30-metre pass Nodoka Funaki did just that, playing substitute Maho Hirosawa into the penalty area, from where she drilled her first-time shot into the roof of Grove's net.
Just six minutes later Hirosawa completed the rout, as Chise Takizawa found her with a diagonal through-ball from midfield between Blissett and Mihočić, allowing her to beat the advancing Grove and slot her effort under the keeper for a brace.
While unsurprising considering Japan's incredible run of form and world-beating team, the sheer scale of the loss and nature of the performance will be concerning for manager Blayney and her side as they look forward into the crucial third-place playoff on Sunday evening (AEDT). Having spent almost 95 minutes chasing a brilliant Japanese side and having just 20.2% possession across the match – including only 17.2% in the first half – the side will have to recover well before suiting up for the bronze medal in three days time. Given what's at stake, the side will no doubt be more motivated than ever to push past Korea Republic and, hopefully, into the U-20 Women's World Cup next year.
Japan 7 (Kanno 21'p Osawa 23', 48' Yamamoto 50' Ito 52' Hirosawa 80', 86)
Australia 0
JAPAN: Momoko Tanaka; Shino Matsuda, Hana Takahashi, Wakaba Goto, Nodoka Funaki; Sara Ito, Oto Kanno (Chise Takizawa 62'), Momo Nakao, Misaki Morita; Yuzuki Yamamoto (Fukina Mizuno 75'), Haruki Osawa (Maho Hirosawa 54').
AUSTRALIA: Annalee Grove; Courtney Nevin (Charlotte Grant 46'), Chelsea Blissett, Claudia Mihočić, Deborah de la Harpe; Angelique Hristodoulou; Shadeene Evans, Rachel Lowe, Hollie Palmer (Kyra Cooney-Cross 58'), Indiah-Paige Riley (Princess Ibini 46'); Mary Fowler.