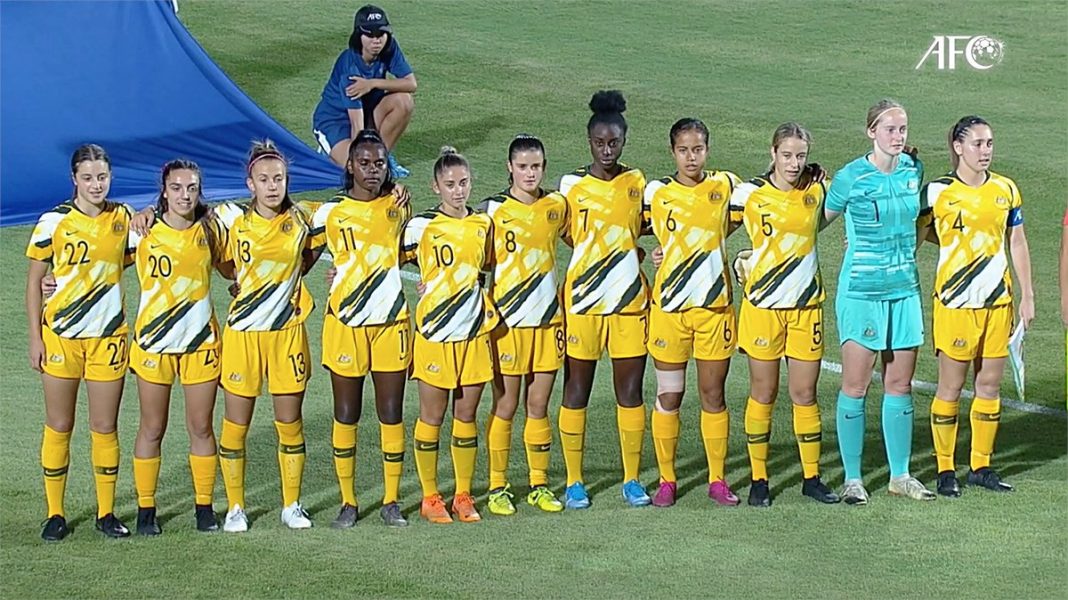 The Young Matildas registered their first victory of the 2019 AFC U-19 Women's Championship with a 3-1 win over hosts Thailand in Chonburi on Wednesday night (AEDT).
A first-half double from striker Mary Fowler and a world-class free kick from defender Courtney Nevin were enough for Australia to earn all three points, though Pattaranan Aupachai's second-half goal meant a nervous last 30 minutes for the visitors.
https://twitter.com/theafcdotcom/status/1189540610589548544
Young Matildas coach Leah Blayney shuffled the deck after her side's heavy loss to DPR Korea, with only the spine of Fowler, midfielder Rachel Lowe, captain Karly Roestbakken, and Annalee Grove maintaining their spots in the starting XI.
Thai manager Arun Tulwattanangkul selected an almost-identical line-up to the one deployed in his side's 0-2 defeat to Vietnam, preferring defender Nutnichka Kalasin to striker Nadia Jehda, and swapping midfielder Phonchita Thaenprathum for Nutwadee Pram-nak.
Setting up in a defensively-minded 4-4-2 formation, Thailand looked to crowd their opponents whenever possible in the final third, setting up roadblocks on both wings in an effort to mitigate the attacking raids of Princess Ibini and Shadeene Evans.
Playing in a more advanced position ahead of Hollie Palmer and Lowe, Ibini and Evans at times dragged three and four defenders into their orbits; with that space now available in midfield, the two wingers worked in concert with their more central teammates through short, sharp passing combinations, moving the Thai defence in and out of shape just as DPR Korea had done to them only days ago.
Australia were the first side into the referee's notebook, with Courtney Nevin earning a booking after crudely dragging down Thanakon Phonkham as she looked to break through midfield on the counter.
It was just past the quarter-hour mark when Australia took the lead through Fowler. Dropping between the lines to collect Ibini's pass from the left wing, Fowler drove into the box, taking two touches to slide past a pair of Thai defenders before sending a low, rasping shot into the far corner past the outstretched  Ponpimon Ngoenphon.
Thailand continued to look for an equaliser through Pattaranan Aupachai, who was deployed as somewhat of a lone hand up front, constantly looking for the pass in behind the line from her midfield supply line of Thaenprathum and Thanakon Phonkham before settling back into shape just her own side of halfway if things went awry.
Fowler added a second goal just before half-time – this one even better than the last. Winning possession in midfield from Ibini's knock-down header, Fowler shimmied her way past two defenders directly in front of goal, catching Kalasin leaning at the crucial moment before firing a wicked 20-metre shot that even two hands from Ngoenphon couldn't keep out.
Two goals up at the interval, the Young Matildas continued pushing in search of a third, pinning Thailand back in their own half through a combination of slick passing across the front five and good defensive work from midfielder Angelique Hristodoulou, the latter of whom worked tirelessly to retrieve possession from her colleagues in defence to start another attacking foray.
Australia would not have to wait long after the break for their third goal – and what a goal it was. Having won an attacking set piece through Fowler's usual industry in the front third, left-back Courtney Nevin launched a knuckling, swerving free kick from the right corner of the Thai penalty area into the apex of the goal to ripple Ngoenphon's net.
Only seven minutes later Thailand would pull a goal back, but not without more than a touch of help from the Young Matildas' defence. After driving into space behind Ibini, and then dispatching the Australian winger with a neat right-footed touch, Ploychompoo Somnonk sent a floating cross onto the Australian six-yard box. With only a moment's hesitation between Roestbakken and Grove, Aupachai nipped in to steal a header, looping it past the keeper and into the net.
Thailand suddenly had a renewed confidence, now shooting at will from inside and around the Australian area; first through Chatchawan Rodthong, who fizzed a shot past Grove's post from distance, with Thaenprathum forcing a smart save down low from Grove.
Australia slowly wrested control of the match back from the hosts, with substitutes Aideen Keane and Charlotte Grant providing fresh legs on the left flank, pinning the Thai right side back in their own half, with Keane's explosive pace providing headaches for wingback Rattikan Khamphaeng as she worked to find space in behind the defence.
With stoppage time ticking down, Young Matildas skipper Roestbakken became the second player to go into the book for a somewhat agricultural rugby tackle on Phonkham, earning the captain a ticket and Thailand one last attacking opportunity – one which they would not take advantage of.
Group A standings after Matchday Two. Who will advance to the knockout stage?#AFCU19W pic.twitter.com/oreehPWppt

— AFC (@theafcdotcom) October 30, 2019
Despite the lapse in concentration which cost her side a goal, manager Blayney would have much to look favourably on after this match: Australia controlled possession throughout the match, with more than 60% of the ball; Thailand managed only two shots on target – one of which was their goal; and Blayney's side managed 26 touches inside the opponent's area, managing nine shots inside the box.
With the final group game against Vietnam in mind, Blayney and her side can point to these significant improvements from the first match, and will no doubt be buoyed by the team's trajectory should they move into the knockout phase.
Australia 3 (M Fowler 17′, 41′ Nevin 56′)
Thailand 1 (Aupachai 63′)
Australia: Annalee Grove; Courtney Nevin (YC 6′; Charlotte Grant 78′), Claudia Mihočić, Karly Roestbakken (YC 90'+1), Tessa Tamplin; Angelique Hristodoulou; Princess Ibini (Aideen Keane 71′), Rachel Lowe, Hollie Palmer (Susan Phonsongkham 89′), Shadeene Evans; Mary Fowler.
Thailand: Ponpinom Ngoenphon; Siriwipa Jantarak, Nutnicha Kalasin, Tipkritta Onsamai (Pornnapa Ounsa 84′), Rattikan Khamphaeng; Tamonwan Raksaphakdi, Chatchawan Rodthong, Phonchita Thaenprathum (Kanchaliya Phimphabut 76′), Ploychompoo Somnonk; Pattaranan Aupachai, Thanakon Phonkham.