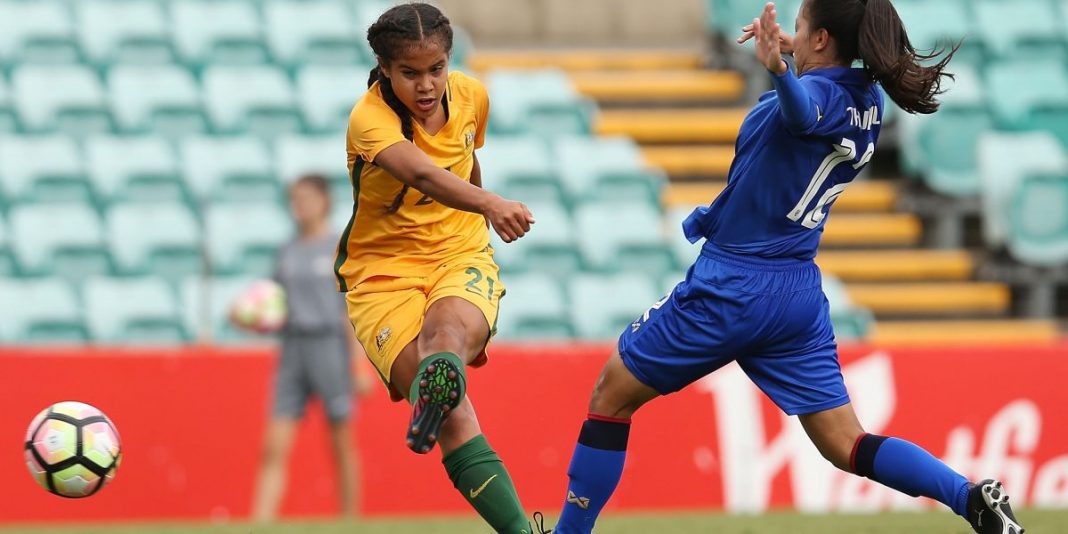 If you were ready to settle into the W-League season and thought the year's competitive international matches had come to a close, think again! The Young Matildas are in Thailand and are set to contest the AFC U-19 Women's Championship. Leah Blayney's team are looking to improve on their 2017 Championship result of fourth place, with a spot in the top three guaranteeing them qualification for next year's U-20 World Cup in Nigeria.
THE SQUAD
One of the youngest players in the squad, striker Mary Fowler will be hoping to add to her bewildering tally of 17 goals in 10 appearances for the Young Matildas. Having signed with Adelaide United for the coming season, this tournament is the best place to catch a glimpse of the prodigy before she makes her W-League debut. Kyra Cooney-Cross, another remarkable scorer, is definitely one to watch at the tournament, while vice-captain Shadeene Evans will be looking to impress upfront as she aims to earn more game time this season with Sydney FC.
In midfield, all eyes will be on captain Karly Roestbakken, who continues to impress at Canberra United and gained valuable experience with the senior squad at the World Cup in France. Alongside her, Susan Phonsongkham and Rachel Lowe form a key stronghold in the centre of the pitch.
The Young Matildas are seeking to establish a solid defence with experienced W-League players Chelsea Blissett, Emily Hodgson, Angelique Hristodoulou, Courtney Nevin, Hollie Palmer and Tessa Tamplin holding down the fort. Meanwhile, Perth Glory's Morgan Aquino will compete with Canberra United's Annalee Grove and Teresa Morrisey from the University of Rhode Island for a spot between the posts.
THE GROUP STAGE
DPR Korea
The first match of the tournament may prove to be the toughest of the group stage for the Young Tillies, who are up against a DPR Korea side that reached the quarter finals of the U-20 World Cup last year. With many players having graduated from the squad that won the AFC U-16 Women's Championship in 2017, the North Koreans are the team to beat if the Aussies want to top Group A.
Thailand
The War Elephants have the benefit of being the host nation and will fight hard in front of home crowds to improve on their showing at the 2017 AFC U-19 Championship, where they exited at the group stage.
Vietnam
Despite the lack of a strong record in previous tournaments, Vietnam is emerging as a strong contender in Asian football, with their senior women's side recently winning the 2019 AFF Women's Championship.
A place within the top two of Group A will see the Young Matildas progress to the semi finals against either China, South Korea, Myanmar or defending champions Japan.
WHERE TO WATCH
DPR Korea v Australia
Sunday, 27 October 2019
IPE Chonburi Stadium, Chonburi, Thailand
4.00pm (local); 8.00pm (AEDT)
Australia v Thailand
Wednesday, 30 October 2019
Chonburi Stadium, Chonburi, Thailand
7.00pm (local); 11.00pm (AEDT)
Australia v Vietnam
Saturday, 2 November 2019
IPE Chonburi Stadium, Chonburi, Thailand
4.00pm (local); 8.00pm (AEDT)
All matches to be streamed via The AFC Hub on Youtube