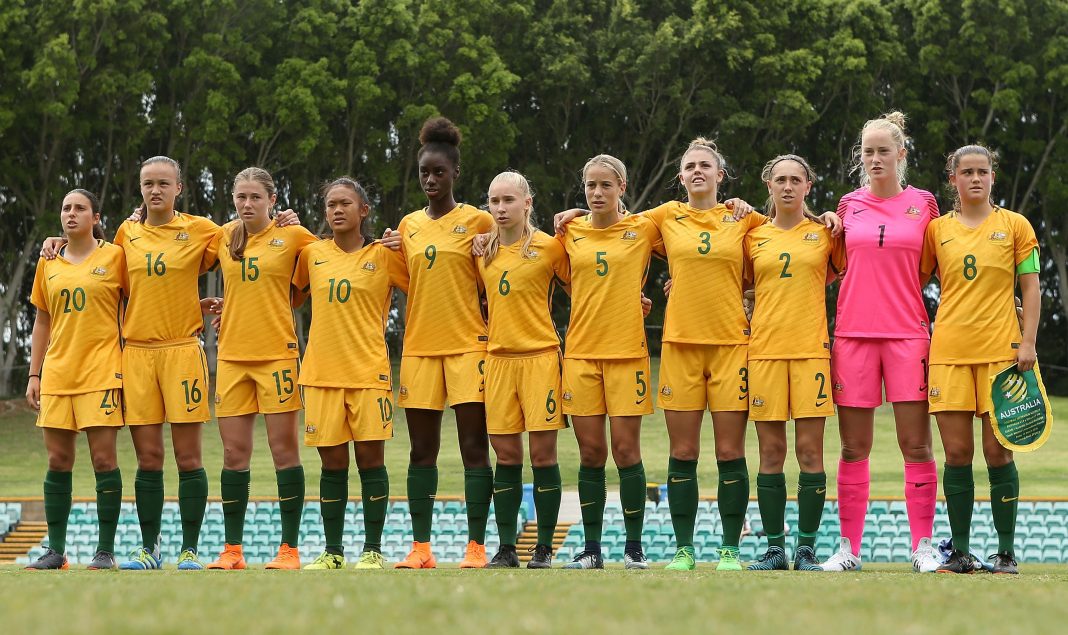 Young Matildas head coach Gary van Egmond has today announced the 23-player roster that will be heading to Myanmar for the second stage of qualifying for the 2019 AFC U-19s Women's Championship.
The Young Matildas will take on Nepal (26 April), Myanmar (28 April) and Uzbekistan (30 April) in this next stage of qualifying. If they finish first or second in Group A, they will join Thailand (hosts), Japan, DPR Korea, China PR, and three other teams in the finals, which will take place in October and November.
The top three nations from this finals series will advance to the 2020 FIFA U-20 Women's World Cup.
"Our upcoming matches in Mandalay will be crucial for the ongoing development of the Young Matildas," van Egmond said.
"We have a clear target in Myanmar, and that is to secure qualification for the AFC U-19 Women's Championship so that we can set our focus on FIFA U-20 Women's World Cup qualification.
"We will also be aiming to see progress in individuals and the team on the international stage."
Squad:
| | |
| --- | --- |
| Name | Current Club/Program |
| Morgan AQUINO (GK) | Northern Redbacks |
| MelindaJ BARBIERI | Future Matildas |
| Chelsea BLISSETT | Future Matildas |
| Kyra COONEY-CROSS | Future Matildas |
| Leah DAVIDSON | Brisbane Roar FC |
| Shadeene EVANS | Future Matildas |
| Ciara FOWLER | Bankstown City FC |
| Mary FOWLER | Bankstown City FC |
| Rosaria GALEA | Macarthur Rams |
| Charlotte GRANT | Future Matildas |
| Annalee GROVE (GK) | Future Matildas |
| Emily HODGSON | West Adelaide |
| Angelique HRISTODOULOU | Sydney Olympic FC |
| Princess IBINI | NWS Koalas/Future Matildas |
| Rachel LOWE | Future Matildas |
| Courtney NEVIN | Future Matildas |
| Hollie PALMER | Brisbane Roar FC |
| Susan PHONSONGKHAM | Sydney Olympic FC/Future Matildas |
| Olivia RIDDEL (GK) | FNSW Institute |
| Indiah-Paige RILEY | Brisbane Roar FC |
| Karly ROESTBAKKEN | Future Matildas |
| Amy SAYER | Future Matildas |
| Tessa TAMPLIN | Newcastle Jets FC |
Matches:
Young Matildas v Nepal
Date: Friday, 26 April
Venue: Mandalarthiri Stadium, Mandalay, Myanmar
Kick-off: 4:00pm (local); 7:30pm (AEST)
Myanmar v Young Matildas
Date: Sunday, 28 April
Venue: Mandalarthiri Stadium, Mandalay, Myanmar
Kick-off: 6:00pm (local); 9:30pm (AEST)
Young Matildas v Uzbekistan
Date: Tuesday, 30 April
Venue: Mandalarthiri Stadium, Mandalay, Myanmar
Kick-off: 3:00pm (local); 6:30pm (AEST)