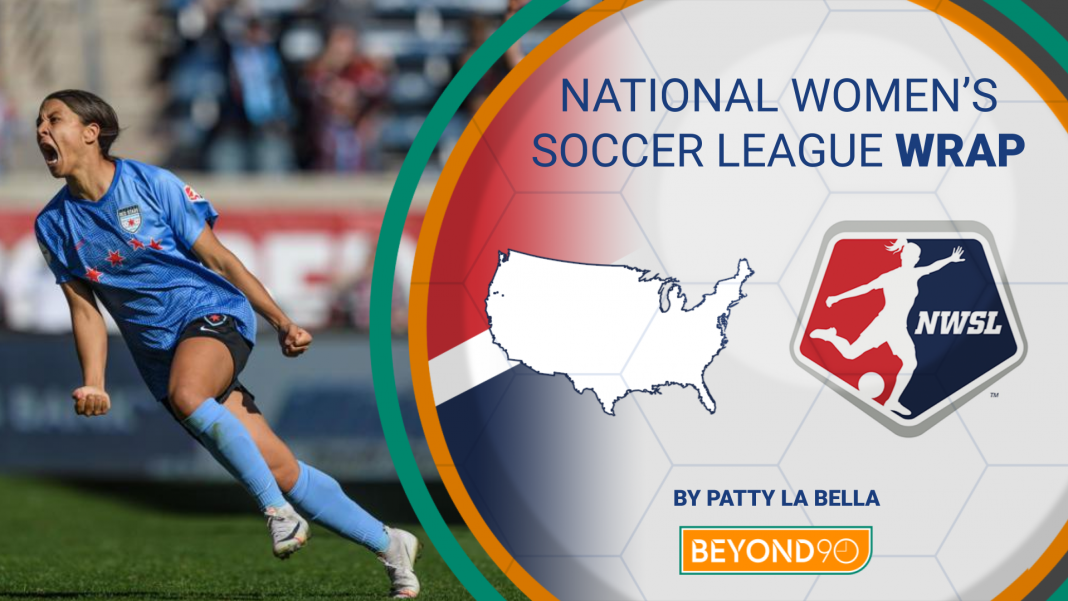 Sam Kerr scores again, Emily van Egmond is out for the season, and more news on the Aussies abroad, as we wrap up Round 18 in the NWSL.
A late equalizer by Sam Kerr was not enough for the Chicago Red Stars, who fell 2-1 to  Sky Blue FC in a midweek clash in New Jersey. Rookie forward Paige Monaghan scored a brace for Sky Blue in only their third win of the season.
Drama in the Garden State! Who else but @SamKerr1?

1-1 | #NJvCHI pic.twitter.com/2yXvR7ARc0

— NWSL (@NWSL) August 15, 2019
This was Kerr's 13th goal of the season, cementing herself at the top of the NWSL Golden Boot race. 
In another milestone for Chicago, Danielle Colaprico made her 100th NWSL appearance. The 2015 NWSL Rookie of the Year has made all of her NWSL appearances with Chicago, and was a member of W-League Champions Sydney FC last season.   
Highlights:
#Highlights: @SkyBlueFC 2 – @chiredstarsPR 1

—–

Chicago's winning streak is no more after late-game drama from @paigeqmonaghan and Sky Blue to seal the victory.

—-#NJvCHI pic.twitter.com/RFbDo37HQz

— NWSL (@NWSL) August 15, 2019
Utah Royals FC scored two goals from strikers Amy Rodriguez and Christen Press to defeat Orlando Pride for the third time in the 2019 regular season. 
With Alanna Kennedy playing in the holding midfield position, Orlando's defense wasn't up to the task of defending a high-press offensive frontline, which included Rodriguez, Press and Katie Stengel.
.@ChristenPress is on 🔥 this month! She's opened the scoring for @UtahRoyalsFC 👑

0-1 | #ORLvUTA pic.twitter.com/YHQIz2Bs2f

— NWSL (@NWSL) August 18, 2019
Orlando suffered more than a few losses this past week, with both Marta and defender Julie King sitting out due to suspensions, while midfielder Emily van Egmond will undergo ankle surgery, forcing her to miss the remainder of the 2019 season. Van Egmond will return to Australia for the surgery, which will remedy an injury she sustained on her left ankle while playing at the 2019 FIFA Women's World Cup for the Matildas.
"We are obviously very upset to lose Emily for the remainder of the season," said Orlando Pride General Manager Erik Ustruck. "As a Club, we know that Emily is a world-class athlete and she has the mental capacity to push herself beyond her physical limitations, but her long-term health is our biggest priority. We wish her the best and look forward to her full recovery."
Highlights:
#Highlights: @UtahRoyalsFC 2 – @ORLPride 0

—–@ChristenPress, @AmyRodriguez8, and Utah all stay on 🔥 as 👑 win a third in a row.

—-#ORLvUTA pic.twitter.com/67oPelvjBe

— NWSL (@NWSL) August 18, 2019
In other health-related news, it was announced earlier that Orlando defender Toni Pressley has been diagnosed with breast cancer and has begun treatment. Pressley made her W-League debut in 2017 with Canberra United.
The league-leading Portland Thorns FC recorded a 3-1 win over the Washington Spirit in front of 20,895 fans at Providence Park in Portland.
Hayley Raso put Portland on the board in the 5th minute with her fourth goal of the season, taking her total with the club to 12 goals and moving her to sixth on the club's all-time scorers list.
Thorns centre-back Emily Sonnett and forward Christine Sinclair added the extras for the hosts, with forward Andi Sullivan scoring for Washington in the 68th minute.
The league leaders are off to a 🔥 start! @HayleyRaso scores on a curling effort to give @ThornsFC the lead.

1-0 | #PORvWAS pic.twitter.com/WSs5xo1kvf

— NWSL (@NWSL) August 18, 2019
"It feels good," said Raso after the match. "It's great to play at home, to come out and get a win, and to score a goal tops it off."
Portland defender Ellie Carpenter started the match at right-back before being substituted just after the hour mark, with forward Caitlin Foord subbed in at the 71st minute.
Washington defender Elise Kellond-Knight was issued her first yellow card of her NWSL career after fouling Raso in the 58th minute, while Amy Harrison was an unused substitute.
Highlights:
#Highlights: @ThornsFC 3 – @WashSpirit 1

—–

The league leaders take care of business against Washington.

—-#PORvWAS pic.twitter.com/Jhcb5Mr64n

— NWSL (@NWSL) August 18, 2019
Despite being out-shot and out-possessed by Reign FC, Sky Blue FC managed to earn a 1-1 draw in front of 9,415 fans at Red Bull Arena in Harrison, New Jersey – the largest attendance in club history. Sky Blue midfielder Elizabeth Eddy scored in the 36th minute and Reign forward Jodie Taylor scored in the 38th minute.
👌 cross by @ALLIE_LONG
💪 finish by Taylor!@ReignFC have leveled this at 1️⃣ here @RedBullArena. #NJvRFC #NWSL pic.twitter.com/IyiH60qrG6

— NWSL (@NWSL) August 18, 2019
Sky Blue midfielder Caprice Dydasco had a major block in the 13th minute to stop a goal-scoring opportunity – Reign midfielder Allie Long played a ball to defender Steph Catley who then set midfielder Rosie White in on goal, but as White went to strike the ball, Dydasco deflected the shot.
Reign had majority of the possession in the first half with 62.6 percent. Play was mainly in the midfield with very few opportunities to break the deadlock.
Highlights:
A record @SkyBlueFC crowd watched their side earn a 1-1 draw with @ReignFC.

The action at @RedBullArena in 60 seconds. #NJvSEA pic.twitter.com/wbPU7Ens4s

— NWSL (@NWSL) August 18, 2019